Mark and Debbie Hammersia have a brand new house. Well, sort of. They remodeled, reconfigured and enlarged the house Mark had built in 1993, while still a bachelor, to better suit the needs of their growing family, which includes son Tristan, 7, and daughters Chandler, 5, and Spenser Grace, 8 months. Their current 4,800-square-foot home bears little resemblance to its 2,400-square-foot predecessor.

The couple began the renovation process by sketching out exactly what they wanted and then having formal plans drawn up by Blue Door Designs. When they sought cost estimates from builders, they were shocked by the numbers they saw. "We were getting a lot of really astronomical quotes," recalls Debbie.

So the couple turned to their friend, Shervin Tahssili, for advice. Shervin is the founder and president of award-winning Tuscany Construction Group, Inc., a company that specializes in the design and construction of residential and commercial buildings. Because Tuscany specializes in new construction, Debbie and Mark didn't expect Shervin to take on their project, but, says Debbie, they knew he could "give us an insight into what it really should cost us."


Shervin's reaction when he saw the quotes? "You have got to be kidding me!" Not only did he agree to handle the renovation (Tuscany does, in fact, take on large-scale remodeling projects), but he told Mark and Debbie he could do the job for about $200,000 less than other builders had quoted them-and that's exactly what he did. Naturally, he earned an enthusiastic endorsement from the couple!

To say that the house has undergone a radical transformation is an understatement. "We stripped it down to the bare framing," says Shervin. "We changed everything. Everything." Obviously, a project this extensive required that the family vacate their home, so they moved into an apartment for six months."

Without a doubt, the hub of the new, improved Hammersla house is the 650 square-foot combination kitchen/cafe area. "This is the family gathering place," says Debbie, noting that a fireplace, not a television, is the focal point in the cafe. "We added the fireplace because we wanted it to be warm and inviting, because this is where we're all together while dinner's being prepared," she says, noting that Mark is the family chef. It was he, she says, who was most excited about outfitting the kitchen with a new Dacor commercial range.

The striking decor of the kitchen is largely defined by black granite counter- tops and custom-made, black-washed cherry cabinets. The cafe is equally impressive, featuring a round, solid walnut, House of France dining table, surrounded by chairs covered in ostrich leather. A cozy seating area is comfortably furnished with a love seat and chairs that, like most of the downstairs furnishings, were custom-made in High Point. The polished look and comfort of this space belie the fact that, pre-renovation, it served as the garage.

Actually, there is one clue to this room's former life, but it is cleverly concealed behind a tall, slender bookcase. It would have cost $4,000 to relocate the breaker box to the new garage, so designer Diane Koury (who worked closely with Debbie during the renovation) came up with the idea of hiding the box 11 behind a specially-built bookcase. On wheels so the breaker box can be conveniently accessed, the book-case fits so perfectly in this space that no one would ever guess that its primary purpose is concealment, rather than display.

One of the most interesting decorating features, not only in the kitchen and cafe, but throughout the home, is-believe it or not-knobs. Debbie admits that she spent five hours shopping for the 90 knobs used in her home. For the kitchen, she chose brushed nickel, using specialty handles in certain places. For example, two hand-painted knobs, depicting wine bottles and grapes, adorn the cabinet where her wine glasses are stored. And, upstairs in the laundry room, cabinet doors can be opened by miniature socks, shirts, and shorts.

Off the kitchen, Debbie wanted to decorate the small powder room in such a way that it would make a statement. "I wanted it to be elegant," she says. To set the tone, she chose a black, marble-topped bombe chest and had it converted into a vanity for a black sink. She chose a wine color for the painted wallpaper on three of the walls, and, at Shervin's suggestion, mirrored the fourth wall to give the illusion of space. She completed the dramatic decor with a crystal chandelier.

The house's original kitchen has been converted into a family room, where, unlike in the cafe, a flat screen television has been installed in a recess above the fireplace. This room is filled with items that hold a special place in Debbie's heart: family photos, a large watercolor of the exact location in St. John where she and Mark were married, and a set of two bookcases built for her by her grandfather when he was 80. The bookcases have been placed next to one another, with a piece of trimwork hiding the seam, so they appear to be one unit; they've also been bolted to the wall and trimmed out with molding, so that they look as though they are built-in.

The new, spacious family room is quite an Improvement over the original family room, which was small with French doors on three walls and a fireplace on the fourth (Can you imagine how tricky furniture anangement must have been?). The wall that divided the original family room from the formal living room was removed, and thisentire area has been opened up to form a long music room. (The music room is featured on the cover with two of the Hammersla children-Tristan, 7, and Chandler, 5.) The length of the room led to its natural division into two distinct, but interconnected, spaces:a beautiful baby grand piano is the focal point at one end, while, at the other, a seating area arranged around the fireplace provides an opportunity to enjoy the sounds emanating from this instrument.


The beauty of the baby grand is enhanced by the exquisite round rug on which it sits. Although Diane expressed some doubt that a round rug would work in this space, Debbie was sure that it would-and she was right. It did, however, require time, patience and effort to pull the look together. The rug was ordered from China and was delayed in customs; therefore, the piano arrived at the Hammersla house first. This might not sound like a big deal, until you consider that the piano weighs 700 pounds, so moving it is no small feat. When the rug was finally delivered, the piano movers returned and situated the piano on it, completing the look Debbie had hoped to achieve.

The ambiance in the music room is decidedly more formal than that of the new family room or the cafe, due largely to the fact that black is a predominant color in the furnishings and window treatments. Debbie chose black, along with subdued neutral tones, to help create a dim, relaxed atmosphere perfect for listening to jazz, Mark's favorite style of music. Despite the formal feel of the room, Debbie insists, "It's very kid-friendly." Not only do the children practice for music lessons here, but they also spend time playing chess or cards with their friends at a game table specially built for the room.

One of Debbie's goals, during the renovation process, was to ensure that "every bit of space in this house" be efficiently used. A perfect example of how this was accomplished can be found in the foyer, where the front door was originally framed by two bare alcoves. Diane suggested enclosing the lower portion of each alcove to form storage cabinets, while Shervin recommended installing glass shelving above. The cabinet/shelving combination eliminated wasted space and also added a decorative, yet practical, touch to the home's entrance.

The renovation also resulted in some dramatic changes on the second floor. Chandler's bedroom, for example, was expanded using space that once served as a bonus room, so the lucky 5-year-old now has her own suite, including two closets, a dressing area, and a bathroom. She was allowed to choose the tile, flooring and wallpaper for her bathroom and even the knobs for the vanity. Using pinks and lavenders and butterflies and hearts, she created her own fit-for-a-princess suite.

Across the hall, Tristan had a hand in decorating his bedroom and bath as well, opting for a predominantly blue palette. As for his cabinetry hardware, it's not too surprising that this 7-year-old boy chose knobs embellished with frogs, is it?

The family has a new bonus room (located above the new garage), which serves as the perfect play space for the children. When the children are older, Debbie and Mark envision converting it into a theater room. That home improvement project should be a piece of cake, compared to their last one!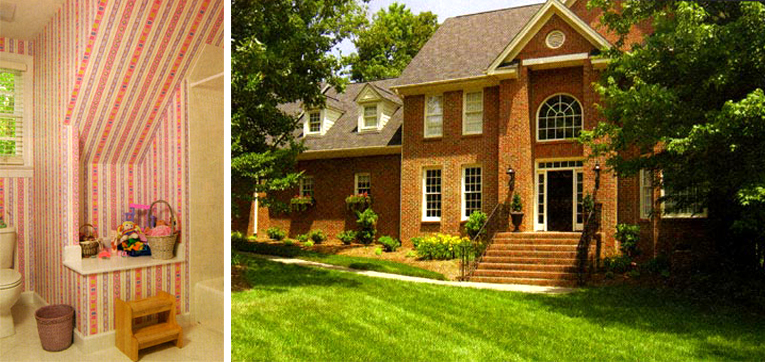 RENOVATION: Tuscany Construction Group, Inc.
YEAR BUILT: 1993
YEAR REMODELED: 2003
SQUARE FEET: Now approximately 4,800. Prior to renovation approximately 2,400.
SPECIAL FEATURES: Special features: large, comfortable kitchen/cafe area; elegant music room with baby grand piano; furniture custom- made in High Point; small details that make a big difference (knobs!)