"Soothing and Peaceful"
Tahssili is still building homes for clients, lately in Valley Crest, Tuscan Lake and Tuscan Hills, and each year he has at least one Parade of Homes entry open for the public to tour. "My biggest philosophy in business is to treat and respect people the same way I want to be treated and respected," Tahssili says. Recently, however, Tahssili decided it was time to do a little work on his own Ridge Road home—to bring the Tuscan flair of the interior to the outdoors, much to the delight of his wife and two daughters.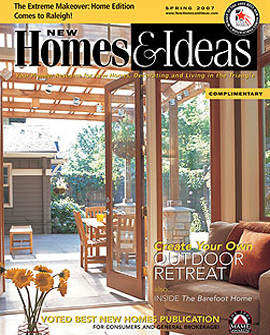 Tuscany design and décor is most often associated with warm colors, including reds, terra cotta, oranges, browns and greens, and also by natural woods and stone, including tile. The Tahssili living room and kitchen is floored with wide-planked Hickory. Cherry cabinets and granite countertops in the kitchen co-exist peacefully with natural stone accents. The stone fireplace in the living room is flanked on either side by cherry bookcases. Off the living room is an airy covered porch, supported by round white columns. Canvas curtains give the space a casual and inviting feel. The tile floor of the porch leads to a coffee-colored spiral staircase.
But you don't have to descend the stairs to see the crowning glory of this Tuscan garden. It's a water wall Tahssili designed himself, at least 10 feet tall, and built of natural stone to curve gently in the middle. At the foot of the waterfall is a large patio and a firepit. Two Adirondack chairs for peaceful viewing complete the look. The view from the second-story porch is indicative of a good marriage between interior and exterior.
"Basically when I built this house, I wanted to come up with something to take your mind and spirit away from daily involvements and thoughts," says Tahssili. "Also, I wanted to come up with something to give some sort of focal point. I thought about it for a week." Tahssili loves to read and travel and often before he designs something, he'll take some time to sit with a few ideas. For his garden, he thought of installing a pool or a chimney, even a fireplace or extensive landscaping. But then he decided.
"I love water features. For me, they're very soothing and peaceful," he says. "I came up with this concept of the porch and the waterfall. I didn't go with a straight wall; I wanted to add some depth to it." At night, in warm weather, the Tahssilis enjoy sitting on the patio. The wall is lit with several red lights and the firepit casts an additional amber glow.
Food and wine an easy find The yard on Ridge Road is not particularly large, but Tahssili incorporated designated areas, so it feels larger than it is. Adjacent to the water wall is another sitting area, this one too with a water feature, a moderately-sized fountain. Landscaping surrounds both areas so they feel separate even though they are quite close together. Tahssili built a low stone wall with small columns between the driveway and the garden to enclose the space and prevent it from feeling like a grassy extension of the driveway.
Under the covered porch is another patio and grilling area for the family. Tahssili plans to add a built-in kitchenette as food and wine are tenets of European décor. This garden, however, already captures both elements. The grilling area is perfect for serving food and just inside is Tahssili's wine cellar, complete with a bar and tasting area for guests. Tahssili designed an intricate wrought-iron door that separates the cellar from the rest of the house.
A lovely look.
Because his lot is very long, yet narrow, Tahssili decided to create a pathway to and from the garden as well. It's a long and narrow portico of sorts, supported by white columns and topped with wood beams to form an arbor. Guests walk along natural stone steps, surrounded by lush foliage overhead; the purple flowering vines and ivy bloom in the spring and summer. Along the same side of the garden, Tahssili planted a long row of rose bushes and other landscaping to round out his Tuscan garden.
"I love a different look. I love the overall structure and architecture of Italy and Europe," says Tahssili. "To me, you can still deliver the same concept, but it's rather different the way it's all put together and to me that makes a big difference."
Bringing Tuscany to your Garden You don't have to spend a fortune to bring Tuscan elements to your own home. Here are some fundamentals to creating a European flair.

• Hang a piece of ironwork.
• Plant flowers and plants in abundance.
• Use terra-cotta pots or painted pots in reds, browns and oranges.
• Look for wood accent pieces-side tables, stools-and don't worry if they're scuffed or scratched.
• Implement stone into your landscape, whether small pea gravel or large stepping stones.
• Start a vine; Italy is famous for its creeping vines that add lushness to the landscape.
• Ambience is a must. Consider adding torches, candles or lanterns.